Orthodontics – Eugene, OR
Say Hello to a Straighter, Healthier Smile
Straight teeth are more than just a cosmetic advantage. When your teeth and jaws are properly aligned, you enjoy greater benefits in terms of your oral health. For one, brushing and flossing become easier and more effective, so you reduce your risk of dental disease. If you're ready to say goodbye to your crooked teeth and hello to a straighter, healthier smile, call our team at College Hill Dental today for orthodontics in Eugene, OR!
Why Choose College Hill Dental for Orthodontics?
Insurance-Friendly Dental Office
Patients of All Ages Welcome
Caring Dentist with More Than Two Decades of Experience
Reveal® Clear Aligners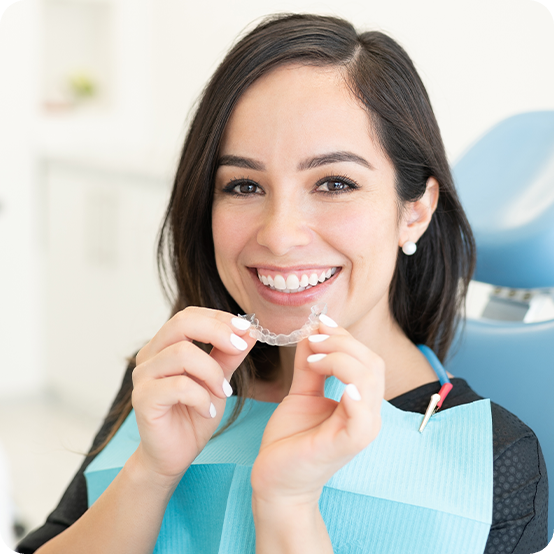 Rather than metal braces that look awkward and limit your diet, we might be able to align your teeth with Reveal clear aligers. This solution uses transparent plastic aligner trays that are worn over the teeth, gently straightening them while barely being noticeable. Better yet, you can remove the trays when it's time to eat, brush, or floss, so they don't impact your daily routines nearly as much as traditional braces.
Learn More About Reveal ®Clear Aligners
Orthodontics Frequently Asked Questions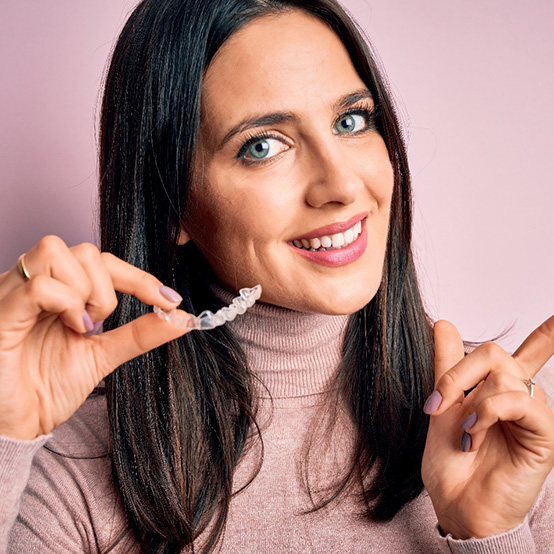 Have questions about Reveal clear aligners in Eugene? Many of our patients are unsure about the process of receiving these clear trays as well as what life will be like once treatment is complete. It's natural to have a level of hesitancy about a particular orthodontic service, which is why our team is here to answer all your questions. We're always happy to meet with you face-to-face to discuss this further but to help you in your pursuit of gaining more knowledge about this unique style of treatment, feel free to review the questions and answers below. Then, call our office to schedule an appointment.
Does Wearing Reveal Clear Aligners Hurt?
Typically, wearing Reveal clear aligners does not cause much discomfort. However, when you begin to wear your trays for the first time or switch them out for another set in the series, you may experience some minor pain. This is because your teeth are moving, and it is likely to result in minimal soreness or achiness. Fortunately, you can take an over-the-counter pain reliever to reduce discomfort and get back to your normal day-to-day tasks.
Are Reveal Clear Aligners Results Permanent?
The results of your orthodontic treatment can and should be permanent as long as you commit to wearing your retainer as recommended by your cosmetic dentist in Eugene. Even though you may no longer be wearing your clear aligners, it is essential that you complete the retention phase. For most patients, this means wearing a retainer for the rest of their life, but each person is different, so timelines may vary. Eventually, you will not need to wear your retainer every day but instead, only at night while sleeping. As long as you remain committed to this process, you can expect your teeth to remain in place. Otherwise, they will begin to shift back to the original spot, undoing all your hard work.
What Should I Do If I Lose My Reveal Clear Aligners?
It is always recommended that you hold on to your previous set of Reveal clear aligner trays. While it's in your best interest to purchase one or more protective cases while wearing these aligners, it is still possible to accidentally lose or damage one of your trays. When this happens, go ahead and reinsert your previous trays until you can get in to see our team. You'll need to call us right away so that we can get you in for an appointment. It is during this visit that we will evaluate the status of your smile and determine if you need a replacement tray or if you can go ahead and move forward with your next set in the series.
Can I Be Treated with Reveal Clear Aligners If I've Worn Braces in the Past?
This is dependent upon many factors, some of which include the severity of your dental problem (i.e., overcrowding, gaps, misalignment) as well as your commitment to the process. Many patients who previously wore metal braces find much success with Reveal clear aligners. However, if the problem you're experiencing is too severe, it may require that you return to traditional braces to achieve your desired results. After meeting with our team to discuss your intentions and goals, we will evaluate your smile and determine if you are a candidate for treatment.