Reveal Clear Aligners – Eugene, OR
Subtle Treatment, Straighter Smiles
Traditional metal braces may have once been the only way to straighten crooked teeth, but advancements in dentistry have now made it possible for patients to enjoy a more subtle method of treatment. With Reveal clear aligners in Eugene, our team at College Hill Dental can easily shift your pearly whites in the right direction without bringing attention to it. Similar to other clear aligner systems, Reveal clear aligners are BPA-free and do not require extra attachments to help teeth move. If you are interested in learning more about this unique orthodontic solution, give us a call today.
How Reveal Clear Aligners Work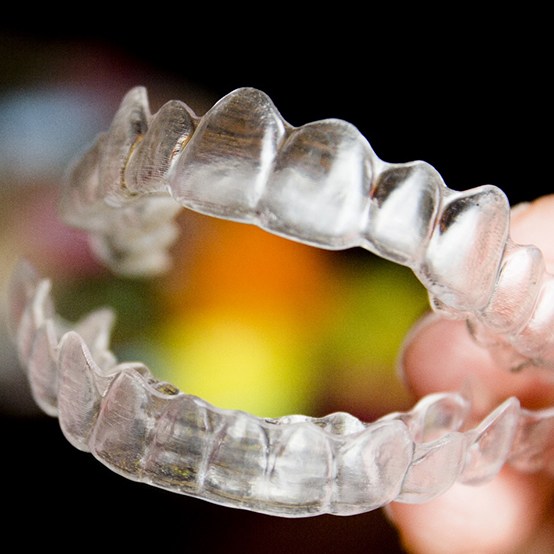 Reveal clear aligners were first manufactured by Henry Schein Orthodontics in 2019. Serving as an alternative to traditional braces, these clear, plastic trays gently shift teeth into the proper position so that bites are more accurately aligned, and teeth are straighter.
A thorough, initial consultation is required by a dentist in Eugene, and digital images are taken to ensure the trays fit comfortably. Not requiring attachments like other clear aligner systems, Reveal fits snugly against the teeth and has scalloped edges for a more comfortable approach to orthodontic treatment. Also, because they are made from a special material known as ClearWear, which is BPA-free, they are less likely to become stained or clouded over time.
Indications for Reveal Clear Aligners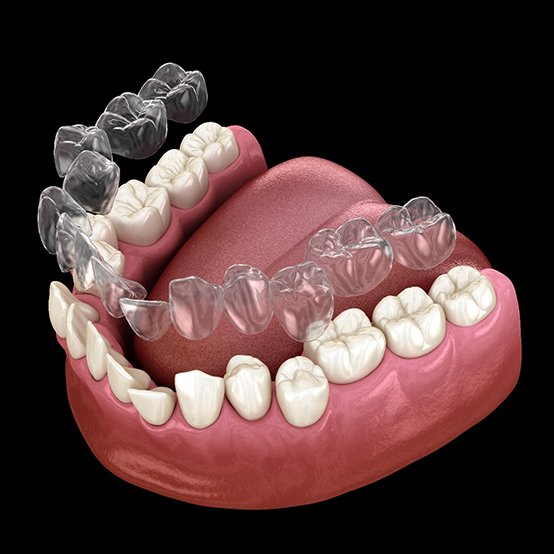 Reveal clear aligners offer a level of versatility, which is great news for patients who prefer to avoid traditional metal braces. They are capable of treating:
Crowded Teeth
Lacking sufficient space between teeth can lead to an increased risk of decay, cavities, and gum disease. With Reveal clear aligners, however, we can generate the necessary space, allowing for better oral health and a more beautiful appearance.
Gaps Between Teeth
When too much space exists between teeth, it not only causes self-esteem issues but also makes eating and speaking more difficult. Using Reveal clear aligners, we can work to bring teeth closer together so that space is eliminated, and a more uniform appearance is achieved.
Bite Alignment
Overbites, underbites, crossbites, and open bites are all treatable with the help of Reveal clear aligners. By shifting teeth in the appropriate direction, worn tooth enamel and chronic jaw pain can become a thing of the past, allowing you to enjoy a more pleasing aesthetic and functional smile.
The Benefits of Reveal Clear Aligners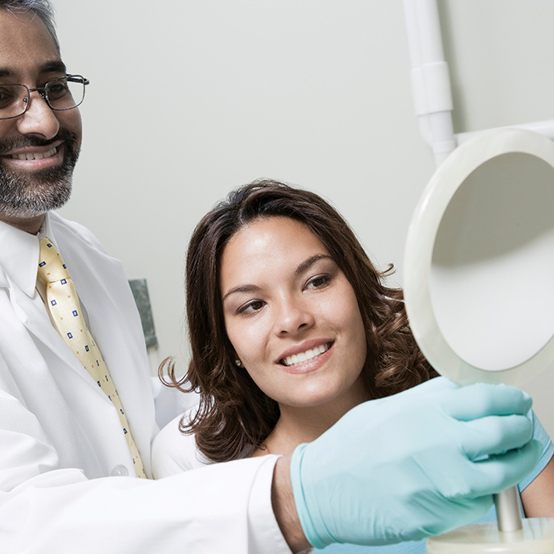 The benefits that come with Reveal clear aligners are endless. Patients who choose this new and innovative orthodontic solution can expect:
A more comfortable approach to orthodontics because of the customized trays created just for your smile
Scalloped edges that are designed to ensure greater comfort
Flexibility that allows you to remove your trays before eating or drinking
A more subtle form of treatment as opposed to metal braces that shine a spotlight on dental health
Optimal results that include straighter teeth and more perfectly aligned bites
An easy-to-clean solution
Stain-resistant trays
Understanding the Cost of Reveal Clear Aligners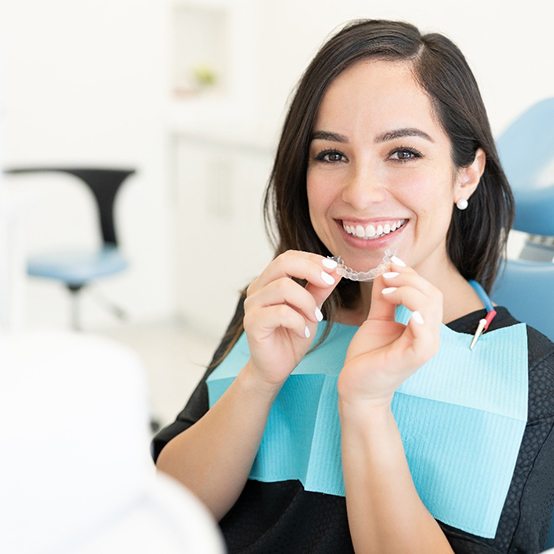 Only when you schedule a consultation with our dental team will you receive a cost estimate for your Reveal clear aligners. Because no patients are alike, and treatments vary from person to person, we must evaluate your smile and determine if Reveal is even an appropriate solution. If so, we'll need to examine your oral health and decide if preliminary treatments are necessary (i.e., gum disease treatment, tooth extraction, etc.) as well as how many clear aligners you will need to complete treatment. Our team will work to help maximize your dental insurance benefits and discuss alternative payment options should they be necessary.